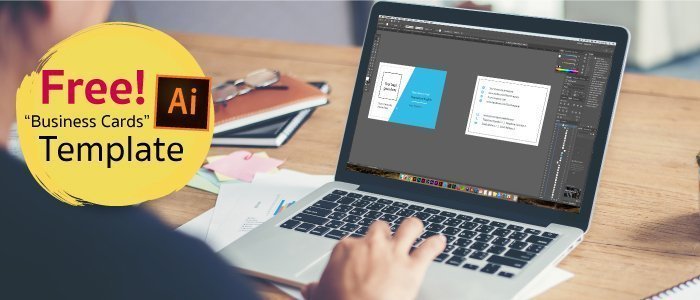 Dear readers, we've decided that it was time to design a neat and professional business card template for you to use. Our designer worked some of her magic on her laptop, and came up with this:
Gogoprint presented "Business Cards Creator" where you can easily create your own business cards like a professional look!
Now I for sure like it because it is simple, straight to the point, and just looks professional and clean. That is all you need to make a lasting impression when you distribute your business card.
We made the template for business cards of the format 8.5x5.5 cm, because we have had some very positive feedback on how those looked. After downloading the template and opening it with Adobe Illustrator, here's how to proceed:
1. Fill in all text fields with your personal and company information. To do this, select the Type Tool (T) in Illustrator, click the text fields in the template, and replace the dummy text with your information.
2. You can change the blue background color and the color of the icons to any color you want that best fits with your company/brand. Pick the Selection Tool (V) in Illustrator, click the elements whose color you want to change, then choose the color you want with the Color tool.
3. Once you filled in all text and have made sure that it was correct, embed the text. Read our blog post on the importance of converting fonts to curves and how to do so here
4. Add your logo and company name to the template. Make sure that the resolution of your logo is 300 dpi or higher (read here why this is important). You can fiddle with the size and position of your logo and company name to make it look great
5. Once you are finished with customizing your template, save your artwork in the pdf-x1a format. Follow this tutorial to do so, and readthis blog post to learn why pdf-x1a is such an important standard.
There you go, you now have an awesome business card that people will definitely remember. Print your business cards with Gogoprint, and we recommend picking Matte Lamination as a finish to reinforce that classy and professional touch to the business card.
Don't hesitate to share this post with your friends so they can also benefit from our free template. Stay tuned for more cool templates, graphic design tips, and printing news on the Gogoprint blog!