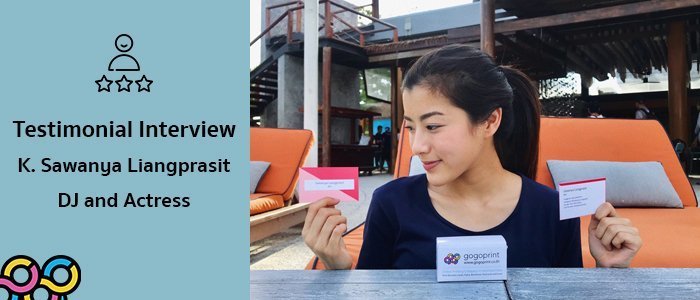 Hello everyone! Today, we have been honored to meet and talk with a famous DJ and actress who is be known well in the entertainment industry, Khun Bell, Sawanya Liangprasit, the actress from Secret Love series: My Lil Boy, Season 1 from GMM channel. Do you believe that apart from the actress, she is also be an online influencer with 284k followers on the Instagram. That's made her to be a model for the teenages. Let's find out together why K. Bell knew and chose to make her business cards with Gogoprint.
Hello K. Bell, we're very pleased and thankful that you could spare your time to do the interview with us today. First, could you please introduce yourself briefly so that the readers know more about you?
Hello everyone! I'm Bell, Sawanya Liangprasit, a DJ from Mono Fresh. Anyone can listen and see Bell at Mono Fresh 91.5 between 10.00 - 12.30 on Saturday and Sunday.
Alright, let's get start with the question that we would really like to know how do you knew about Gogoprint?
Well, since I worked in the entertainment industry, so I had to contact with many people. I thought that I should had my own business card. Then I searched on Google and found Gogoprint's website. It was a very cool, looked systemic, and easy to use. So I tried to print with Gogoprint.
So, what was the deciding factor that made you choose to print with Gogoprint?
I think it was the free business card template editor on the website. I wasn't good in using designed programs and I never had business card before. So I didn't know what should I do but with Gogoprint, there are the templates that has many patterns and easy to use. I just only need to fill my personal information.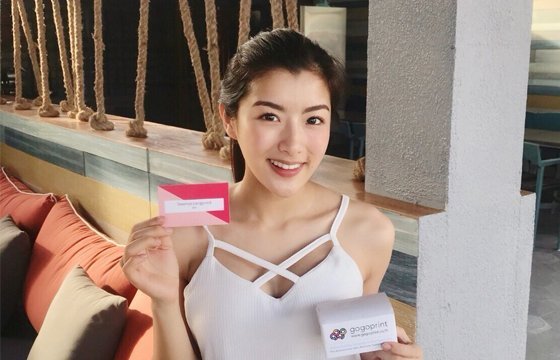 I agree with you that the free business card template editor is convenient. And after you got your business cards, what did you think about it?
It was beautiful. I worked as a DJ and I wanted business cards that could create my image to be more cheerful. So everyone wanted to listen and follow me more. Then Gogoprint designed my business cards to be colorful that met my need perfectly.
Lastly, if you have to recommend your friends to print with Gogoprint, is there anything that you would like to say?
Print with Gogoprint, it's easy, cheap, and fast-delivery. You should try if you're looking for a printing.
That's it, what do you think about our interview with K. Bell, Sawanya Liangprasit today? I hope you enjoy this interview and benefit from it. If you would like to print business cards with us, click here. Or if you want to try our templates in the Free Template Editor to design your own business cards, click here.