Hello everyone! Today, we have been honored to meet and talk with a famous online influencer from Instagram, Ms. Natcha Chatanulak or Chanat, owner of "cchanatt" Instagram. She has followers in the Instagram up to 159k. That's made her to be more well-known in the social medias. Many agencies contact her to be a model in the music video and do a photoshoot. Let's find out together why K. Natcha knew and chose to make her business cards with Gogoprint.
Hello K. Natcha, we're very pleased and thankful that you could spare your time to do the interview with us today. First, could you please introduce yourself briefly so that the readers know more about you?
Hello, I'm Natcha Chatanulak. I'm really glad to meet you all. I'm an online influencer so who're looking for a model to do a photoshoot or advertise, you can contact me ("laugh").
Alright! I'm pretty sure now that both the readers and I would really like to know how you knew about Gogoprint?
Well, I felt that it was the time that I should had the business cards. Because when agencies contacted me to do advertising, be a model on the music video and take photoshoot, I had to tell them about the contact details every time. So I was really tired. Then I decided to make business cards. I searched on Google and then found Gogoprint's website. It was a very cool website. Everything was systematic, reliable, and easy to use.
Thank you, we appreciate the compliments because we really do work hard and want it to be the best. And after you got your business cards, what did you think about it?
Well, it was beautiful and the design was perfect. I did like it. I couldn't wait to use it. So I could hand out it to the agencies.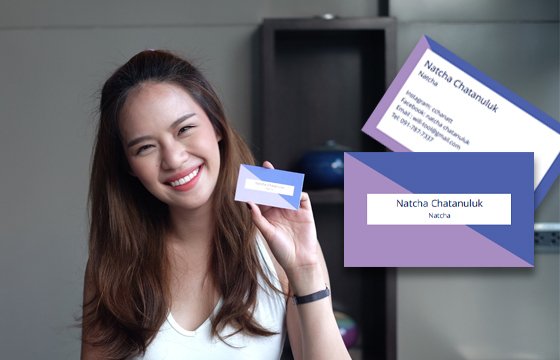 Well, we have created business card templates on our website. Did you use our templates? How was the feature like for you?
Absolutely! I also used this template to design my business cards as well. It's very easy to use and also there are many patterns that I could choose whatever I liked. I just needed to fill only my personal information.
I do agree with you that there are a lots of patterns. Customers can choose the pattern that they want. So, what do you like the most about Gogoprint?
I like ordering printing processes that I think it's really simple to use and can make an order by ourselves on the website. There also are the time-schedules that inform the delivery dates and the prices on the website. It's really convenient.
Okay, lastly, what would you like to say to Gogoprint and our readers?
Umm, I would like to say that anyone who're looking for a printing to print business card or other printings, do not forget Gogoprint. Let's try and you will find out that it's really good. Lastly, do not forget to follow me on the Instagram. Thank you.
That's it, what do you think about our interview with K. Natcha Chatanulak today? I hope you enjoy this interview and benefit from it. If you would like to use our templates in the Free Template Editor to design your own business cards, click here. If you want to print other products from our website, you can click on this link, here. Follow our interview in the next article, let's see who will be the next special guest.